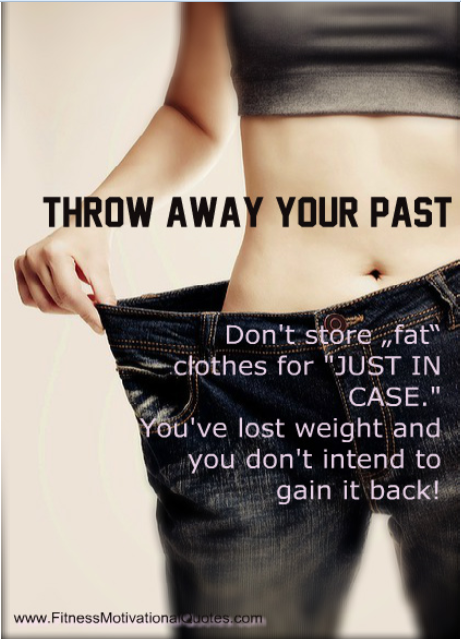 I was talking to my friend yesterday who lost a lot of weight and now she can't get rid of oversized clothes. When I asked her why does she still keep those old clothes she said: "I'm afraid to throw them away because I may gain the weight back and need them." Why would you ever think "just in case", I asked. If you have no intention on going back to that size, then you won't need them!
My dear Reader, I have a gentle reminder for you: There is no JUST IN CASE! You work damn hard to lose those pounds and you have no intention to gain them back! After you've lost weight and found some extra room in the waistline, put those oversized clothes away. You don't have to throw them in the garbage. Donate them to charity or bring them to a consignment shop, and use the money to buy yourself new clothes. Buy clothes that fits your new body and make you feel sexy and confident. Show off your figure with pride and don't hide your shape under bulky clothes.
But if you happen to gain weight, your new clothes will remind you to buckle down or else you'll have to go naked! 🙂
If you have clothes that don't fit anymore, give them away. Even if you never lose another pound, you'll never go back to where you were.
Happy Monday! 🙂