Oh, happy day, or should I say happy weekend! With the help of these weekend workout quotes, it is bound to be active and rewarding as well!
It really should be because Saturday and Sunday are the ideal days to fit your workouts into the week.
During the weekend, we have the luxury of time at our disposal in comparison to the work week when we are often required to coordinate our workout schedule with the rest of our daily responsibilities.
Moreover, because we generally have fewer daily responsibilities, we have to take care of; we also have additional energy in hand, which we are able to invest in physical activity.
Nevertheless, weekends are full of temptations to slack off as well. But there is only so much rest we need, and overindulging in rest will not bring us any closer to the results we want.
Best quotes for a weekend workout
Even if we invest some of our time and energy into working out, we will still have enough time to regenerate and engage in other activities we would like to do.
So let's check out some weekend workout quotes and foster a "can do" workout mentality for our weekends, which have the ideal circumstances for a great training session!
Hit the gym this weekend and get your sweat on.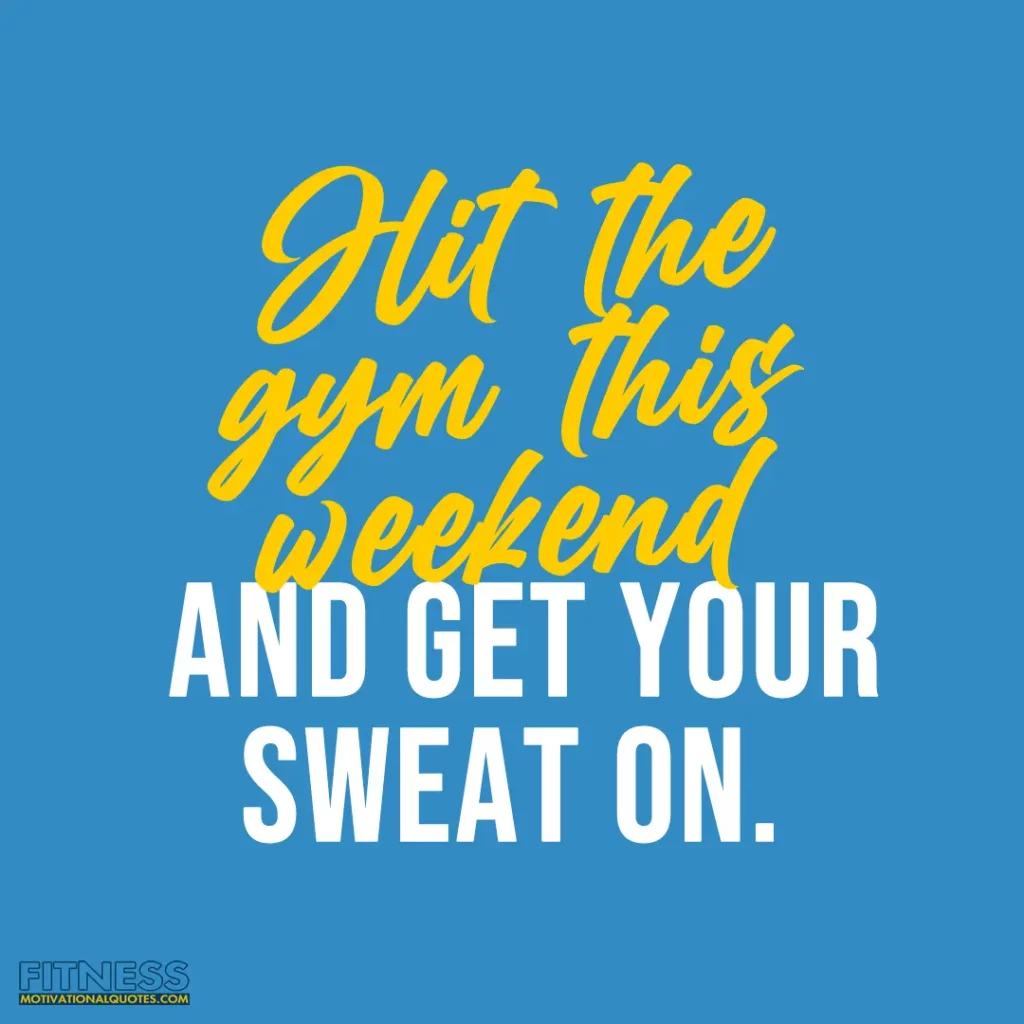 Weekend workout sessions are the best to get you in the routine and feeling great.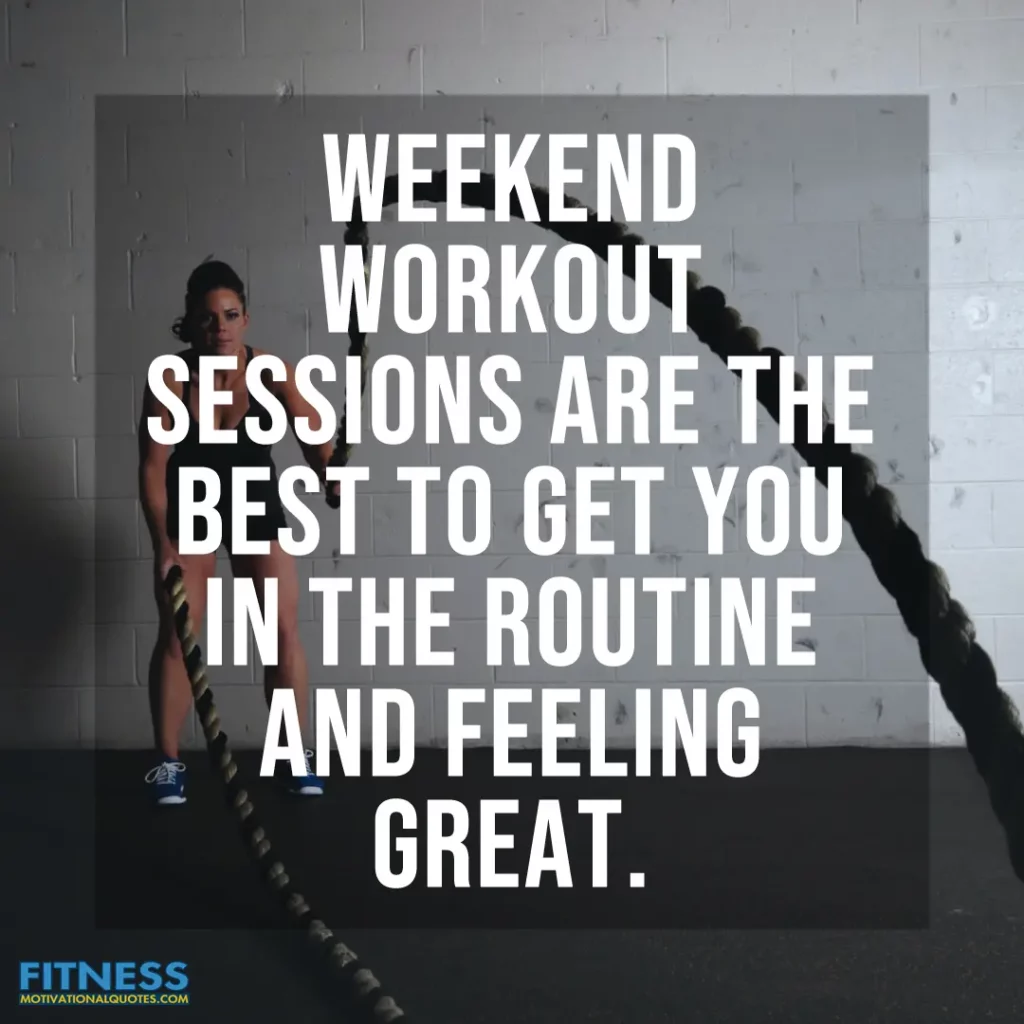 There are no weekends off when you're chasing your goals

Weekend fitness motivation quotes
Saturday and Sunday are opportunities to take some time for yourself.
When it comes to working out you need to remember that you and you alone have made the commitment to work out, because it will bring results that you will be happy about.
We need to think about our workout routine as our self-care routine.
If we take care of our body well, we are lining ourselves up for a lot of long-term health and confidence benefits.
However, your current body is the only body that can take you to your new body.
So remind yourself that your fitness exercises are good for you and every time you skip them is a chance you missed taking care of yourself.
I, on the other hand, will help you in this endeavor by recommending the weekend fitness motivation quotes below.
Weekend goals, be lazy, get stronger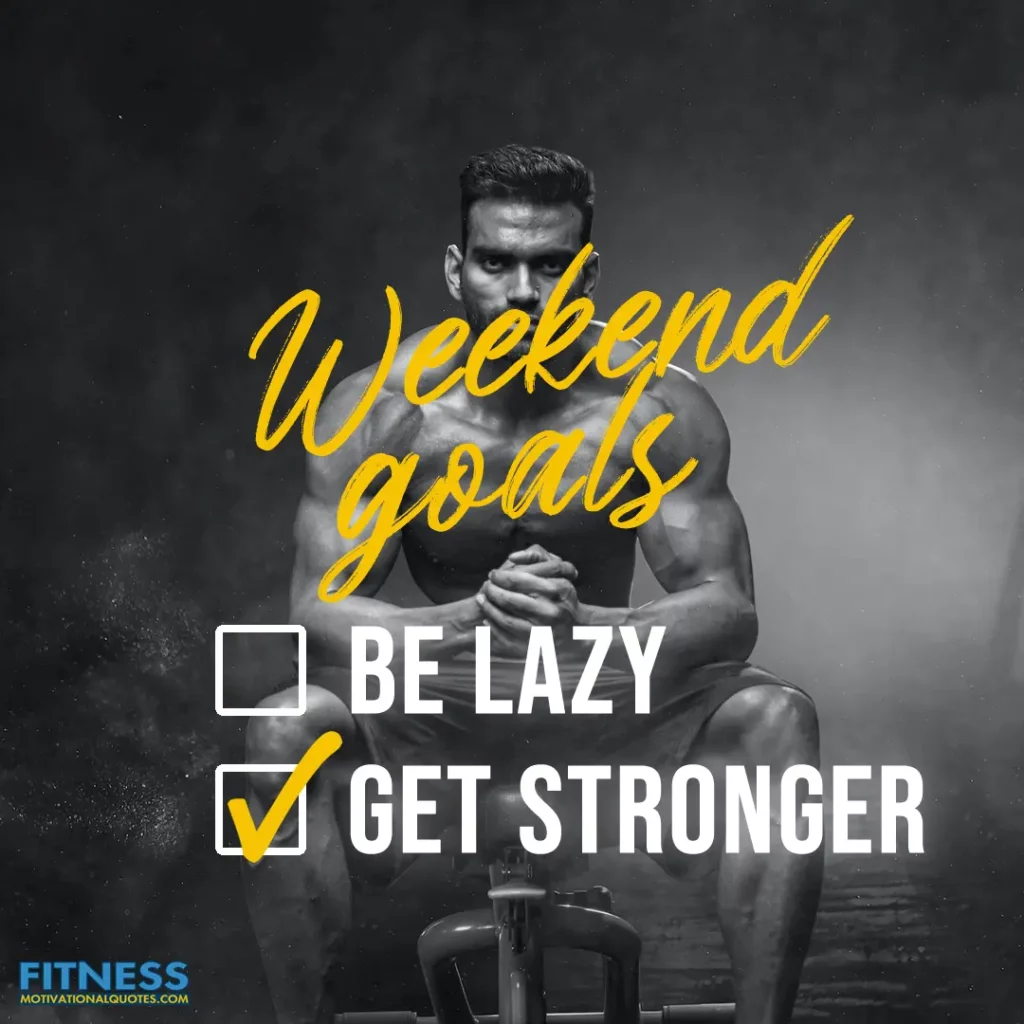 I will never erase all my hard work this week because it's the weekend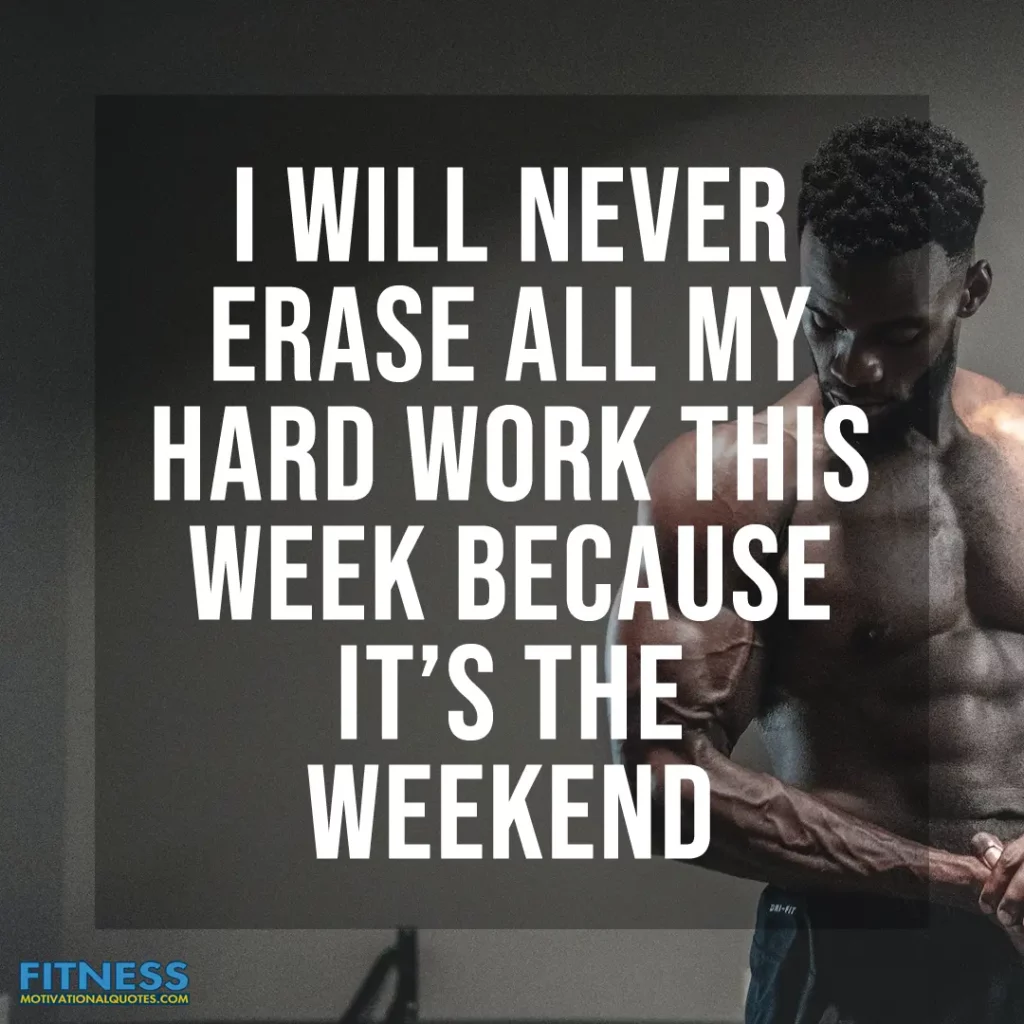 Don't let the weekend become your weak end.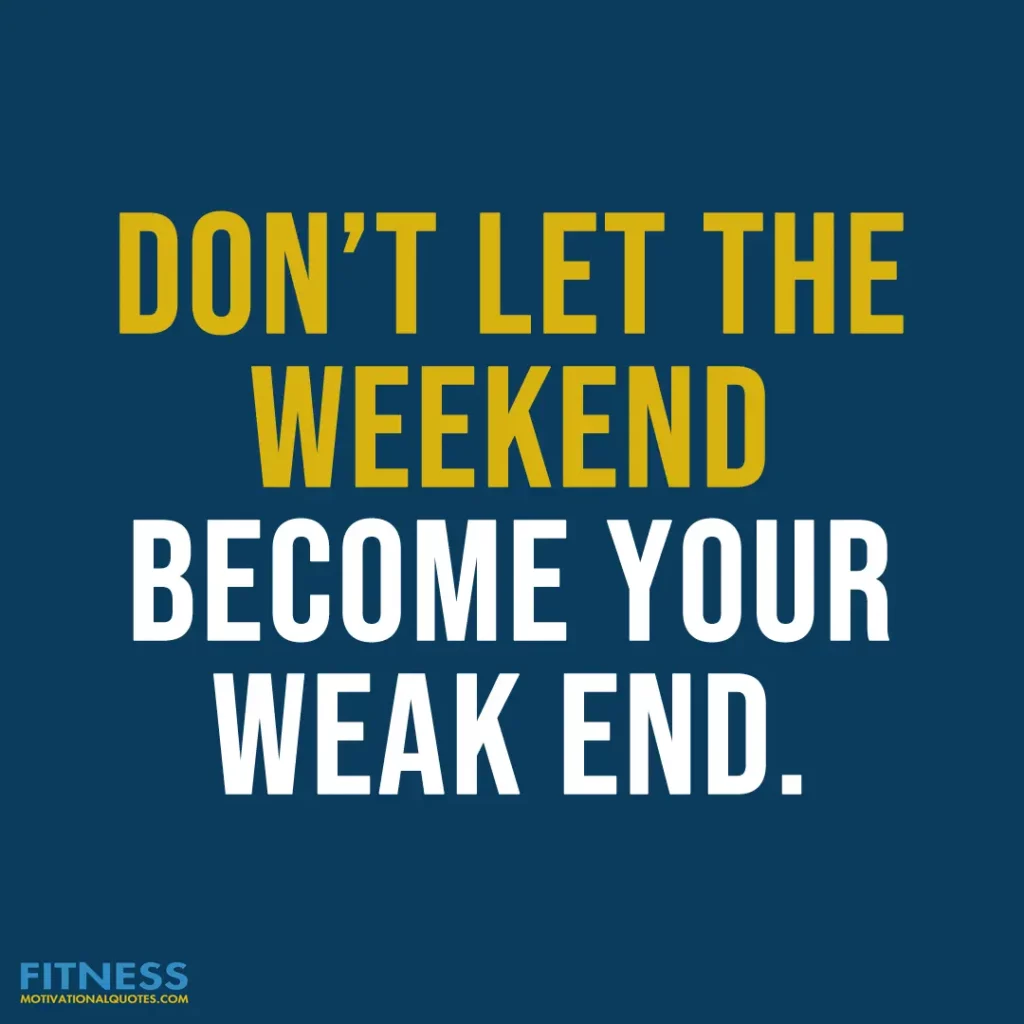 Funny weekend fitness quotes
Our laziness and reluctance to do our fitness routine during the weekend is often so ridiculous that it is comical.
There is nothing wrong with having a laugh at our own expense.
Moreover, having a laugh can reveal to us how very unnecessary our reluctance to work out is, that we can just laugh it off and move on to doing our training session.
At the end of the day, the weekend as well as working out in general should be seen as a fun activity.
There is no fun without fun and there would not be any funny fitness quotes below for you to check out without fun.
I only workout because I really, really like pizza.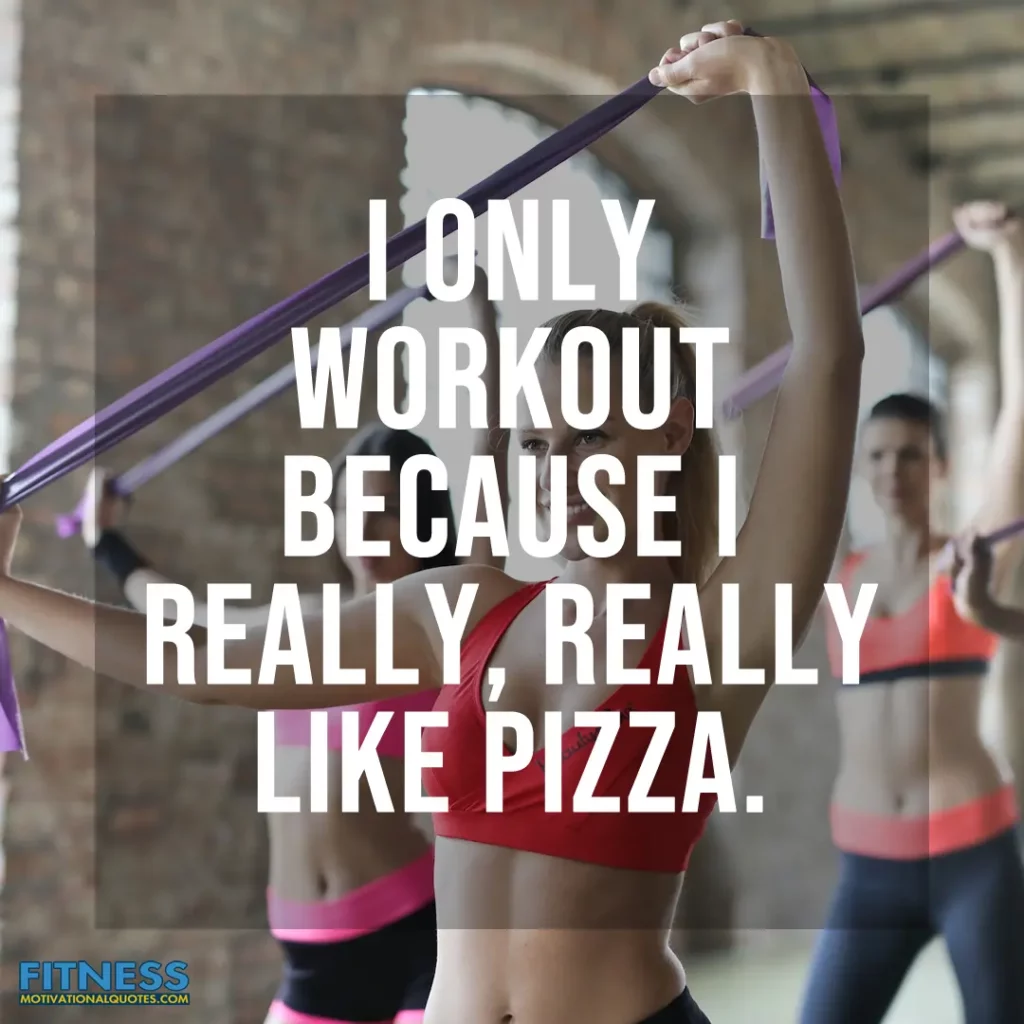 Call the cops because I'm killing this weekend workout.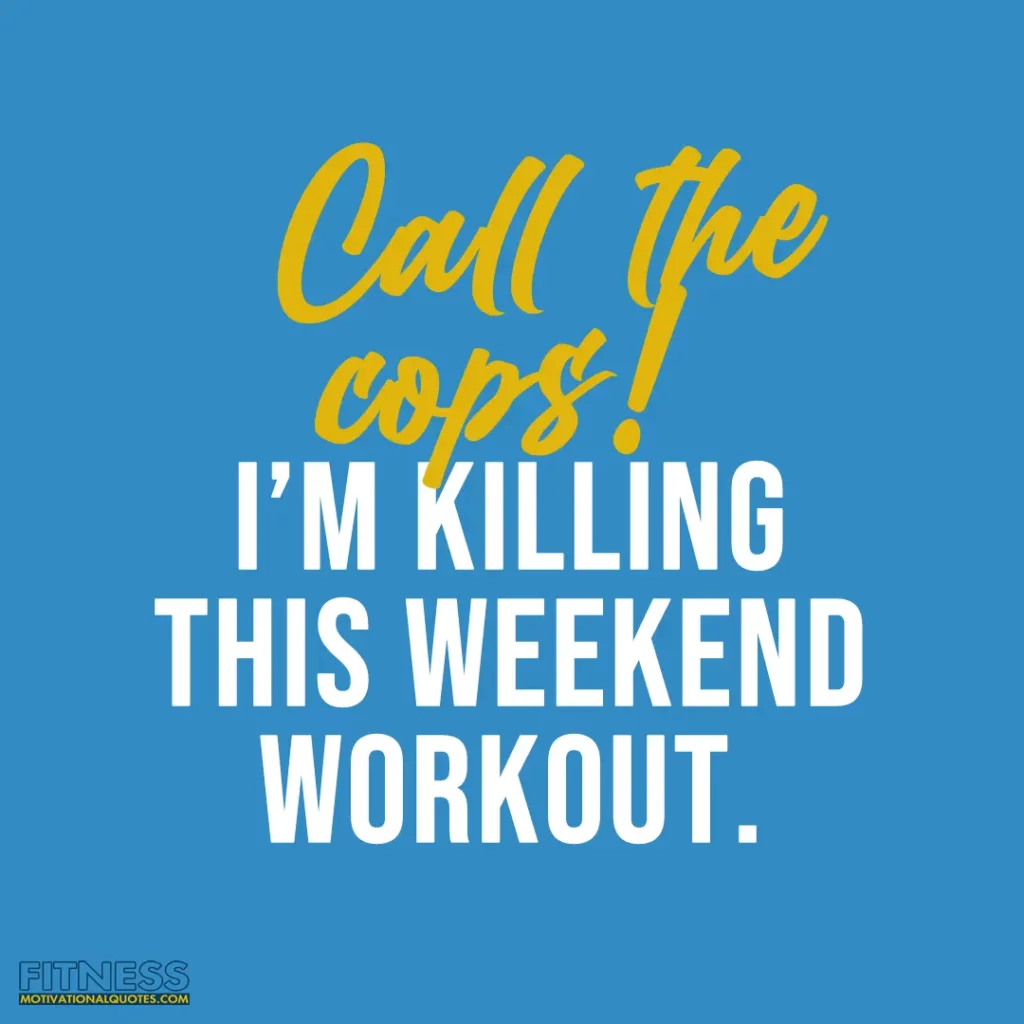 Weekend workout? A) Yes, B) a, C) b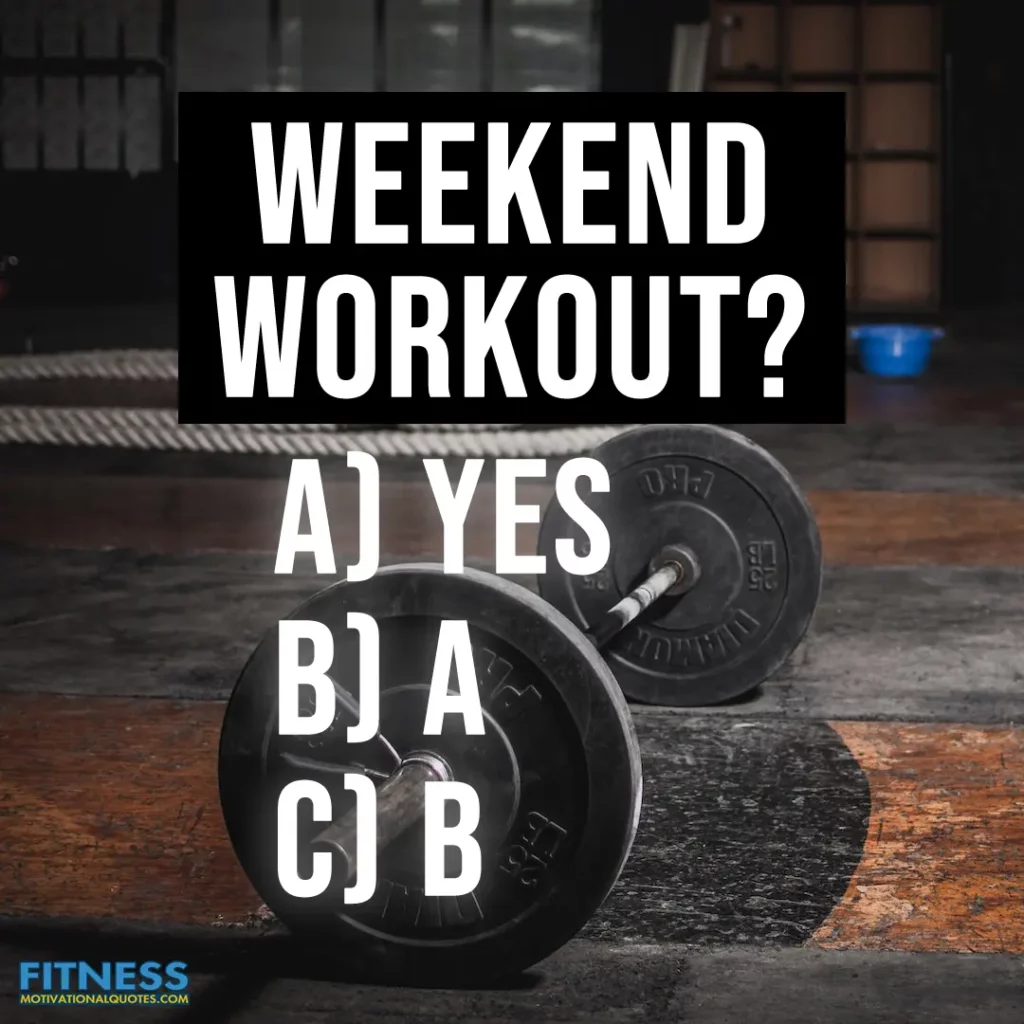 Weekend workout meme
Who wants memes? You want memes. I want memes. Everyone wants and loves memes!
Especially workout memes for all of us gym enthusiasts. After seeing these memes you will regret your next rest day because you need your fresh batch of relatable meme material to be relatable to you.
And yes. What I want to say is that it is worth working out just so you can relate to all the amazing memes the workout community produces on a daily basis.
There are a lot of Weekend workout memes out there. The ones you will find under this section represent a selection of my favorite memes.
Working out on weekend. I guess you can say things are getting pretty serious.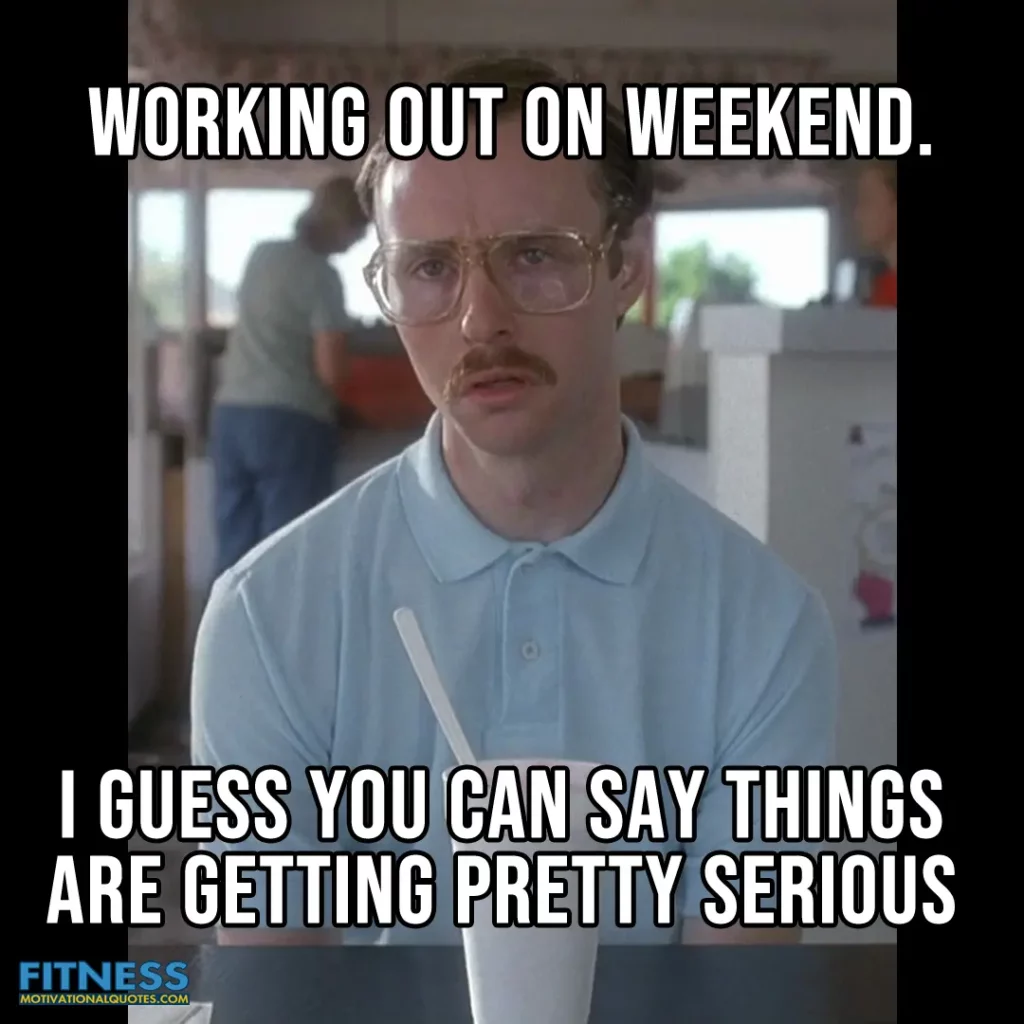 But it's the weekend… shut up and get your ass to the gym.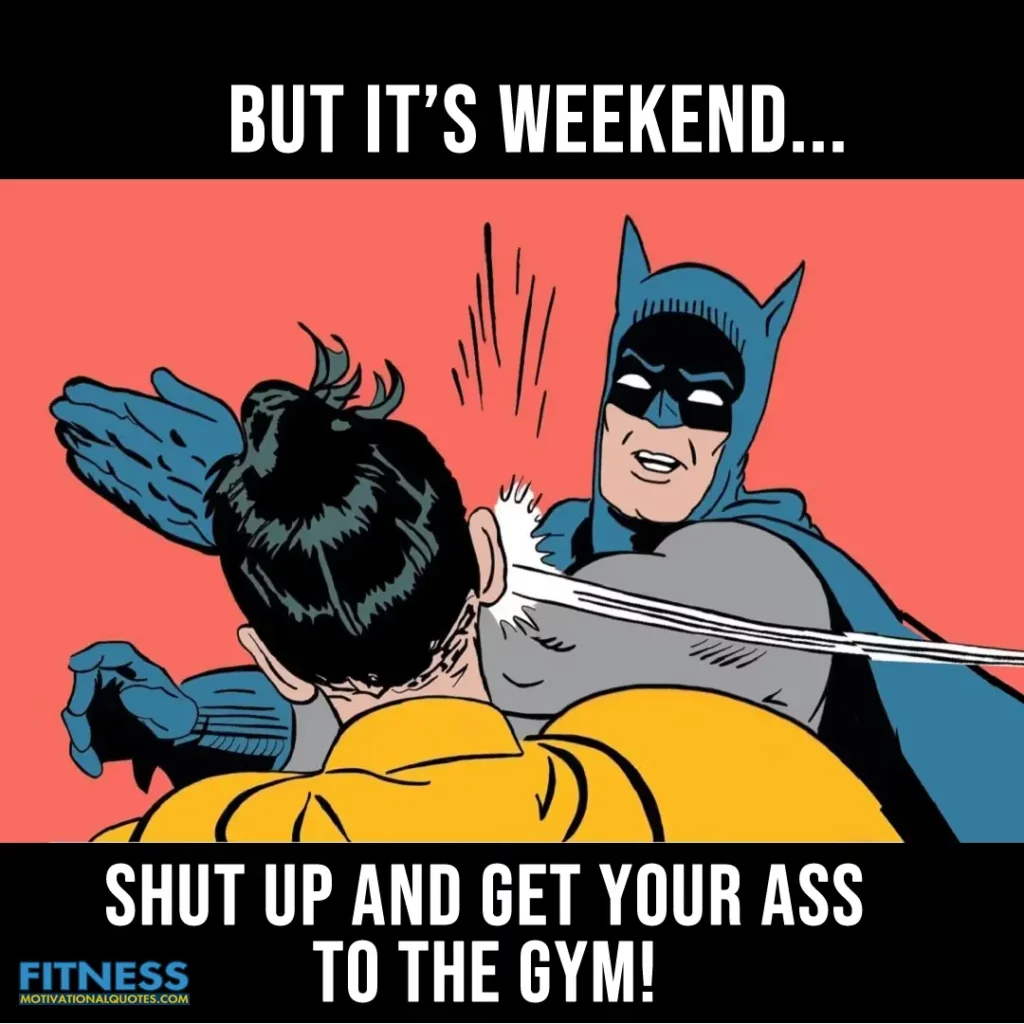 Conclusion
I really love working out on weekends because it is definitely the most convenient period of time to push two intense workout sessions back to back because I have the opportunity to almost completely regenerate my energy by the next day.
The circumstances really help alleviate the risk of injury as well as to enjoy the workout more.
I hope that this article as well as these weekend workout quotes help you understand the advantages of weekend workout sessions.
Obviously, I was very excited about the memes as well, which I hope brightened your day and made you feel like you are a part of a wider community, which you definitely are.
Please, feel free to post your questions and thoughts in the comment section below and I wish you many rewarding weekend training sessions!