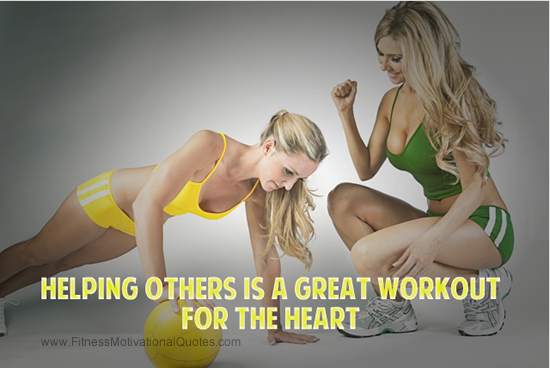 It is true that by helping others, you help yourself. When we care and show concern for others, we improve our own well-being."Do good, feel good" is one of the great truths of happiness. When I help someone and see that I make a difference I get a sense of purpose, fulfillment and happiness. If I have to pick three words to describe how I feel when I help a fellow human being I would choose thankful, blessed and joyful. To inspire or motivate someone onto their own greatness is one of the greatest gifts you can give. So be someone's inspiration today. Motivate, encourage, inspire! Maybe there is someone who needs a little push in the right direction. Whether that means positive health changes, going to the gym, sticking to his/hers resolutions or helping and lifting a friend up. Each time you lift someone up, you lift yourself up as well and every good deed says a lot about your personal spirit and character. Anyhow, "helping others brings happiness and prosperity into your own life, so for whatever reason you chose to help others, it will always help you in return." "The key is knowing that you are giving to share, giving to teach or giving to improve. Don't give with an expectation of getting something in return or getting credit for the action."
Princess Diana said, "Carry out a random act of kindness, with no expectation of reward, safe in the knowledge that one day someone might do the same for you."
Dear Readers, I wish you blessed and fulfilled Sunday!