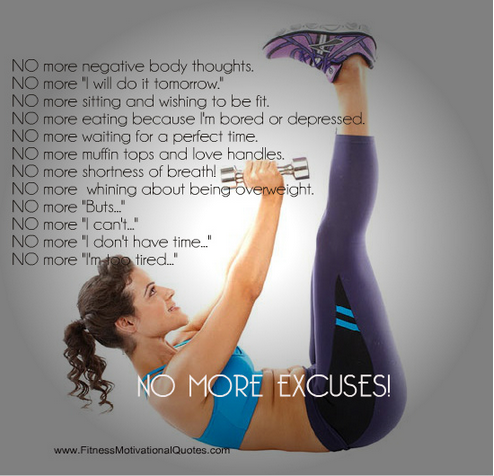 Walt Disney once said that the secret of making dreams come true can be summarized in four C's. They are Curiosity, Confidence, Courage, and Constancy; and the greatest of these is Confidence. Dear Readers, not matter what happens in your life never forget it's never too late to make a change and start living the life you always dreamed of. At any age, a workout and healthy diet, will reward you with a higher energy level, a better shape and will boost your self esteem and confidence.
For those who haven't exercise before have in mind it's never too late to incorporate fitness into your life. I'm not saying it's an easy job, but it can be done no matter what shape you're in now and how old you are. Just start small by setting realistic goals. It may be as simple as walking in the park for some time and then moving toward running your first 5k. "Bear in mind that goal setting isn't all about success––there will be setbacks. This is why small goals are preferable because you can measure achievement and the setbacks don't knock you about so harshly." So just start small, but keep walking!
And for those of you who got off track and want to get your fitness motivation back, first start slow on your workout. That doesn't mean do one pushup and quit. It means don't overdo it in the beginning. Your body needs to adjust again therefore, slowly increase the intensity with more resistance or more repetitions. And the most important thing get you diet in check! I know you have heard this so many times before but I can't stress enough how important healthy eating is. You can exercise every day for two hours, but if you're not feeding your body what it needs, you won't get the results your want.
Wishing you a wonderful day! And yes, YOU CAN DO IT!