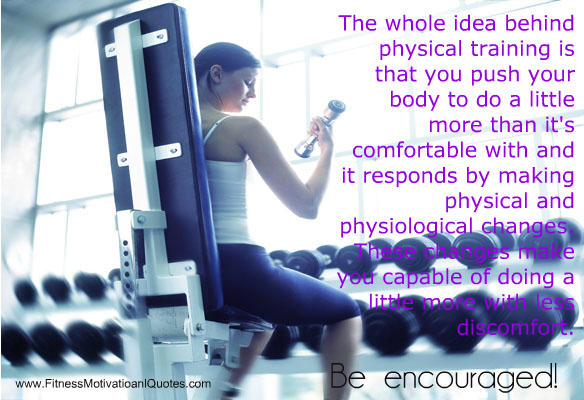 Wednesday Motivation: During your weight loss period you can easily get discouraged. In fact, discouragement is what leads many people to give-up because they may not see the results fast enough. They also don't know how close they actually were to achieving success. What you have to know is that "the visible signs of progress in a weight loss program are often very slow to come. Healthy weight loss takes time, but that can be very discouraging. Be encouraged to know that for each day that you exercise and eat healthy foods in moderate quantities, you have made progress. It might not be measurable that day, but you have made progress and it will be measurable over a period of weeks and months. Be encouraged!
Katherine was 43 years-old and had been sedentary for 20 years. The scale had not changed in those 20 years – she still weighed 136 pounds, but she knew she had lost muscle and gained fat. Her waist was bigger and she couldn't fit into the same size clothes that she did 20 years earlier. What bothered her most was that she was always tired and never had energy. She decided to start walking and weight training but quit after a week. She said, "it's too uncomfortable, I can't keep doing this." I encouraged her to continue and told her that it would get better. She "quit" three times during the next two weeks. We talked frequently. Six weeks later she started to notice some muscle tone and she noticed that her endurance and energy level had increased dramatically. She said, "I'm very encouraged!" Eight months later she had gained two pounds on the scale but lost three inches in her waist – and she walked a marathon! Yeeeeeeesss!"
Dear Readers, I wish you a great day! Be encouraged and remember that weight loss happens the moment you don't give up!
(Source: Made For Success)