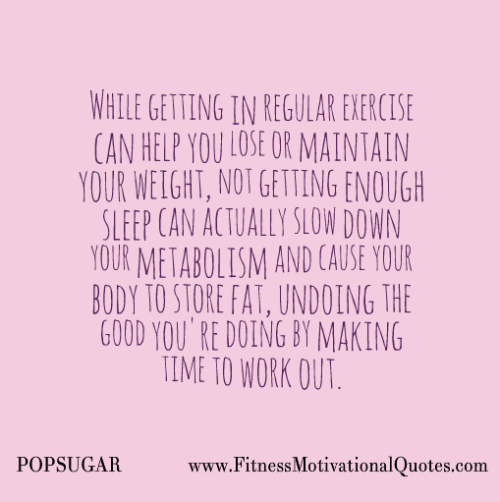 If you're not seeing the fat-loss results from your diet and workouts, think of sleeping!
"You must not overlook the connection between the amount of sleep you get and your overall exercise performance. When you are short on sleep, it's quite typical to find yourself struggling to maintain the usual level of exercise that you normally would tolerate quite well.
In addition to this, since sleep is the primary time the body recovers from exercise, it's also when you will be rebuilding your torn muscle tissues. Without this recovery  time, you're going to go into your next exercise session at a disadvantage.
One of the key recommendations for combating over training syndrome, which will quickly take you away from your workouts and limit further fat loss, is getting quality sleep. Failing to do so could mean you having to take time away from your program, which will without question of a doubt, slow you down.
So make sure you're getting your 7-8 hours of sleep each night. Not only are you going to feel better, think clearer, and be much stronger when it comes to battling those food cravings that are so common with fat loss diets , but you'll also really be helping promote better long-term health as well."
Source: Bodybuilding.com, Sleep: The Unsung Hero Of Fat Loss!