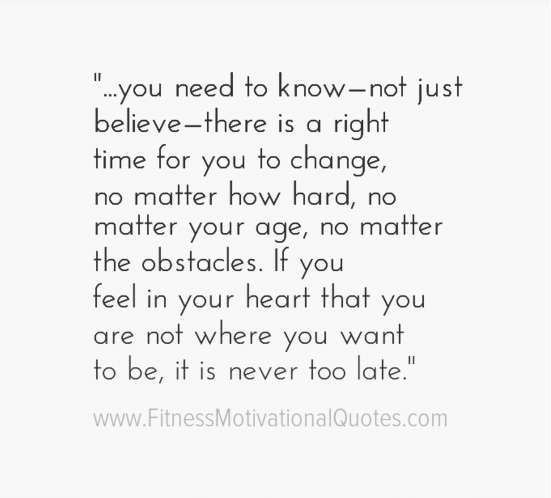 Remember, it is okay to go through life at your own pace as long as you're moving forward.
Life is not just about working hard, it's more about working smart, never giving up, striving to become better than you were yesterday, and achieving as much as possible.
It's important to move at your own pace, instead of pressuring yourself into something you're not ready for or capable of yet.
Just do what you love to do, with passion, at your own pace, and you'll end up where you're heading.
Yes, it's important to move forward in life but it's also crucial to take time to relax, take your mind off things and do something for nothing's sake.
Start today

You may have some bumps on the road and run into some frustrations, but giving up is not and should not be an option! Here's to those that are striving every day to be a healthier YOU." ~Fight Statistics
Remember that every day is a fresh start and a new opportunity! Begin your day by saying positive affirmations to yourself.
Just start moving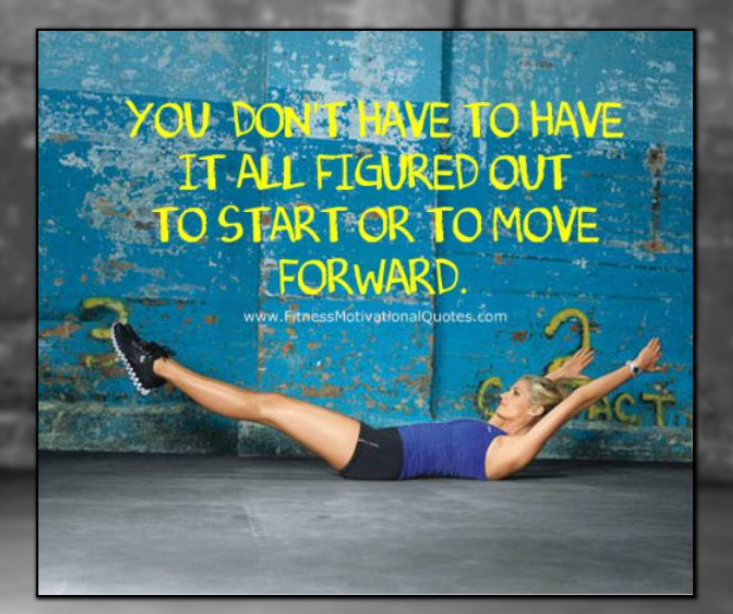 Thursday Motivation: "You don't need to figure it all out now, just figure out what needs to be done next. Then do it."
The right time to get in shape is not Monday or tomorrow the right time is NOW. If you feel that you aren't ready to get started, figure out what is holding you back from taking the first step.
Procrastination? Fear of failure? You don't know where to start? Be flexible. You'll never have ALL the answers and time will never be just right. Don't wait for the perfect moment, start now.
The feeling you get from taking the first step is far better than the feeling you get from sitting around thinking about it…
Even if you don't feel 100% prepared right now, your worst try will always be 100% more effective than the person who never did…
Don't worry about how slowly you feel you're heading towards your goals, or how many roadblocks you find, or how many detours you're forced to take.
As long as you keep doing your thing, you're still cruising far ahead of everyone too scared to even try.
– Marc Chernoff
It takes time

You've gone this long without exercising, so why start now? Because you can get your life back, that's why!
Don't ever make the excuse that you're too overweight or too out of shape to exercise. Don't let your weight keep you from exercising.
Commit time to ourselves

"When we take the time to re-connect with ourselves, replace our fears with trust, and learn to let go of the things we cannot control, this is taking care.
When we listen to our intuition, embrace all of our imperfections, and stay authentic to who we are, this is taking care.
When we ground ourselves in the present and make mental space to find clarity, this is taken care of.
When we discover our interior barriers and find the courage to dissolve them, this is taken care of.
When we learn to be gentle with ourselves, this is truly taken care of.
Be gentle with yourself and keep peace in your soul.
Source: Tiny Buddha, What It Means to Take Care of Yourself
Quiet down your mind

Eat – try new healthy recipes.
Move – change the workout routine.
Live – give yourself something to look forward to.
Love – because love is all that matters after all.
Just one more time

They say failure is the mother of success.  Everyone fails at some point in their lives.  But it's not the failure itself that's important; it's how you deal and cope with it.
I believe that if you're not failing now and then, you're not doing or trying anything new.  I've failed many times, but I learned that risk and failure are a part of the process of success and that everyone gets lost once in a while.
Each failure taught me a lesson.  But the most important one was that you must never give up. You fail,  you pick yourself up, you brush yourself off, you get up and move on.
What I also want you to know is that you must never underestimate what you can accomplish when you believe in yourself. And never undervalue the power of humor and laughter.
It can help you get through it, and to remain positive. Laughter relieves tension and stress and elevates mood.
Go after what you want, take risks, and don't let anything hold you back. Life is too short to sit around and dream.