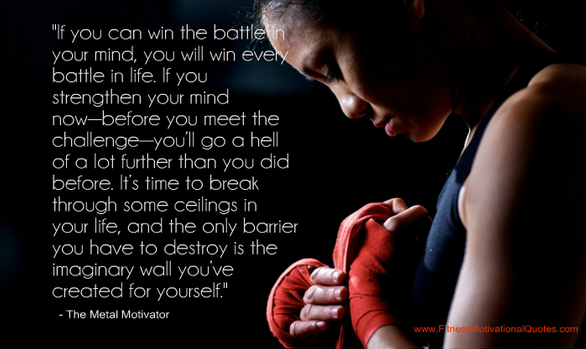 Ella Wheeler Wilcox said, "Always continue the climb. It is possible for you to do whatever you choose, if you first get to know who you are and are willing to work with a power that is greater than ourselves to do it."
I'm a firm believer that you CAN do anything you put your mind to. However, in order to do that you must first change the way you think and talk to yourself. You can receive daily motivation from all kinds of sources and places, but if you don't really believe in yourself and your abilities you will remain stuck and won't be able to move forward. And being stuck is an awful feeling. It hurts your sense of self-worth, eats you up and makes you feel stressed, vulnerable and unsatisfied. So wouldn't you rather use all that energy to focus on whatever you're stuck on and channel it into solving the problem to remove the obstacle? Once you take one positive step you'll immediately feel better about yourself.
We don't have control over most aspects of our lives. However, there is one thing we can control and that is always our ATTITUDE. Complaining and blaming won't improve our situation. It is more productive to use that energy on working to make things better.
"Marc and Angel Hack Life" said, "Think of it this way: An entire body of water the size of the Pacific Ocean can't sink a ship unless it gets inside the ship. Similarly, all the negativity in the world can't bring you down unless you allow it to get inside your head." So if you harbour any negative thoughts, erase them and replace them with positive self talk and thinking. That is the first step to achieving your goal.
"…defend yourself against the 'negative way' and make room for a positive day."
Go on, get started now! And YES, YOU CAN!
Have a happy Friday!