"If you can't fly then run if you can't run then walk if you can't walk then crawl, but whatever you do you have to keep moving forward." – Martin Luther King Jr
Just Keep Moving

Ask what do I want not what I will settle for. Ask what does it take not what can I do. Decide you can.
Prove yourself right each day by taking another step. Show up! Do the work! Celebrate you each time you do. Keep doing!
Soon enough you will know…dreaming big pays off.  – Great Shape Fit Club
Don't stop working on it

'Never give up on something that you can't go a day without thinking about.' – Winston Churchill
Remember, it's always too soon to quit. If you seek success in anything, the road is a continued effort.
Just Get Yourself Moving

Remember this feeling you get after a good workout or a long run? After beating your previous best at the gym? You are sweaty and totally worn out but still feeling so darn good!
The definition of "feeling good" after exercising is different for everyone I know, but I just love feeling like passing out after a good training session.
It means I've workout hard and burn some serious calories. Not to mention some additional benefit – positive self-image!
I always feel accomplished, happy and stronger after a workout is complete. Also being fit and healthy give you that certain glow that makes you shine!
So next time when you have one of those days when you know you should lace up your shoes and hit the gym but just don't wanna, remind yourself how GOOD exercise makes you feel and how it will help you reach your goals.
I know that getting out the door is usually the hardest part. I've been there…but once you get going, you're generally glad you did.
And the reward and feeling you get after each workout are priceless! So just get yourself moving, even if it's only for 20 minutes. You'll be glad you did!
Wishing you all a good day! 🙂
You can change, just keep on moving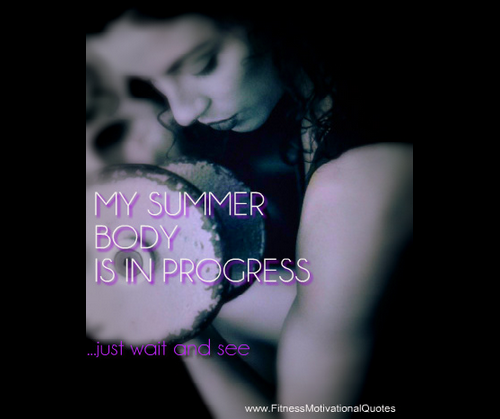 You can do it. You can rescue yourself.
No matter what you believe about your competence or your worth, no matter if you weigh 400 pounds on the scale or in your mind, you can change.
You can become every courageous inch of yourself.
But you have to act. You have to make an effort. You have to find a path or practice that knocks at the door of your heart, and then you have to do it.
Keep doing it even if you don't feel like it on a particular day.
If you do nothing, nothing will change. If you act, if you make an effort, then little by little, bite by bite, the morning after morning, you become the promise of yourself. ~ Geneen Roth