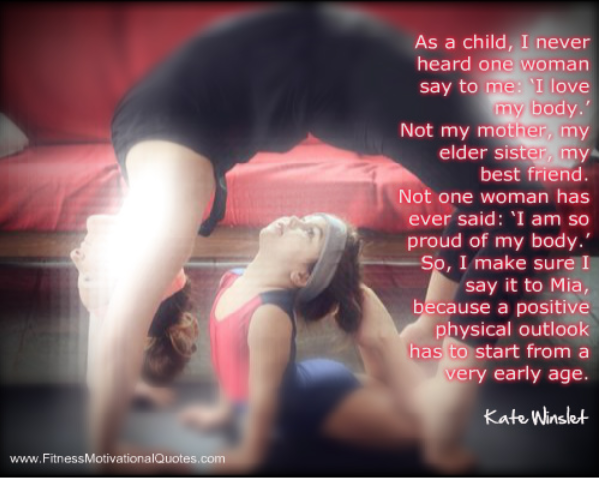 "You don't have to be satisfied with your current weight or figure, but the first step to getting the body you want is to love the body you have. Love yourself and be grateful for all that your body has done for you in your lifetime. If you can start with self-acceptance, you are well on you way to making the sustainable changes you desire – and one step closer to a healthy, strong, and sexy body."
As a parent I try not to say anything negative about my body because I have a child who is listening. Although I have a son I've heard him saying: I have big butt, I want slimmer thighs, I wish my hair was different, etc. A healthy positive body image is so important for children. And in this day and age not only for young girls but for boys as well. So leading by example is the way to go!
If you have negative feelings about your body try to overcome them. Except it no matter what shape or size it comes in. This doesn't mean you will love your body every minute of every day. It means you will focus on how strong and healthy your body is and the things it can do. By doing this you will start to make positive changes.
"As you see your body transforming, your self-esteem will increase giving you even more motivation and confidence to keep working towards your goals. Any goal is attainable if you have a plan to get there."
In order to get the body you want you must first love the body you have. Let this thought carry you through this week.
Happy Monday!
Source: How to Get the Body You Want, Karen Morse