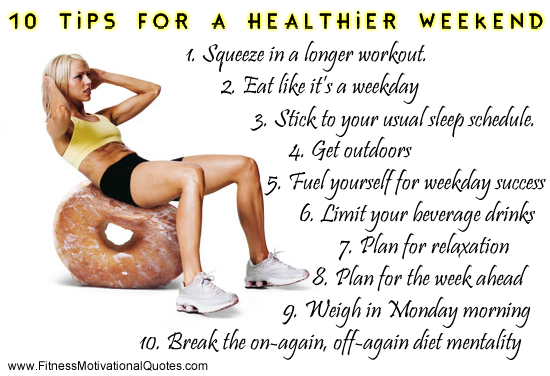 "We all know how it goes. You make good food choices, avoid temptations, and work out every morning only to find that on Friday or Saturday night, your willpower goes out the window. Somehow you begin noshing on chicken fingers and guzzling beer then snoozing through your Spinning class the next morning. Sound familiar?" ( By Jennipher Walters, Certified Personal Trainer and Fitness Instructor) 
Hello everyone! It's Saturday! I know what you might be thinking… You may think, "So I eat a little more on Saturday night, and I'll workout that off on Sunday morning." What usually happens…Sunday arrives, yet you find excuses not to workout. 🙂
I know that weekends can get crazy and sometimes it's so hard to resist the temptation. So here are few tips to help you stay on a healthy track this weekend. You can adopt these hints or create your own. Just make sure it suits you, your needs and your rhythm of the day.
Have fun Saturday and keep your weekend workout motivation in full gear! Stay strong and keep your eye on the prize: a healthier you! 🙂